For this year's biking trips, I want to replace my worthy Garmin GPSMap 60Cx with my Nokia N810. But unlike the GPSMap, the Nokia is neither water- nor shock-resistant. I searched the web for a bike mount, but that led me nowhere. So I came up with a rather DIY'ish solution, which I started today: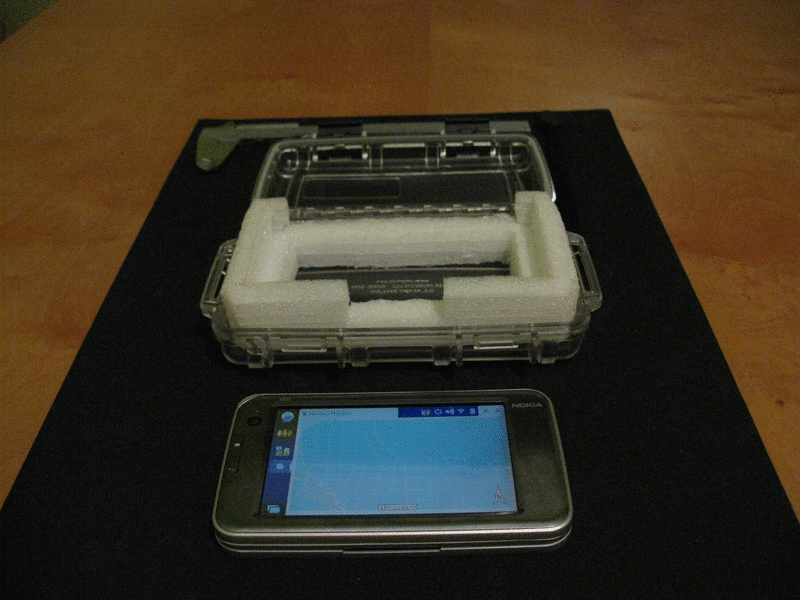 I purchased a transparent Otterbox 2000. Unfortunately, there's some imprint in the lid, even one containing an Otterbox sticker. I had good luck, as there was an air bubble under it. I pulled it out and removed the remaining glue with some dissolvent liquid (which fortunately did not harm the plastic). The lid is not exactly transparent but a bit "anti-glare", but it is transparent enough to read the display of the N810 through it.
Next I needed some inlay to fix the N810. As the Otterbox is thick enough, there's even room for a battery or headphone compartment. Short tutorial:
Get a block of semi-hard foam of 154mm×86mm×38mm.
On top of it, draw a centered rectangle of 128mm×72mm, the size of the N810.
Draw a second rectangle within the first one, just offset by 5mm. This is for the second compartment.
Draw two lines at the top side, at a distance of 100mm. Through this cut-out, the buttons of the N810 will be accessible.
Draw two lines at the bottom side, at a distance of 40mm. This is for the thumb when taking out the device.
Use a (very sharp) carpet cutter and cut the outer rectangle, but only 16mm in depth. Care about your fingers.
Cut both the button and thumb notches, also 16mm in depth.
Cut the inner rectangle through the whole block and remove this block.
Now the tricky part. Cut around the inner edge at a distance of 16mm, but without cutting through the outer lip.
Cut a chamfer of about 5mm to all 10 outer edges to fit the rounded edges of the Otterbox.
Put it in the Otterbox and check if it closes without deforming the block. The block should not stick in the lid when opening the box.
Place the N810 in the Otterbox.
ToDo:
Glue some 2mm rubber pads into the lid to hold the device down.
Place some thin foam or rubber in the lower compartment to avoid rattling of its contents.
Mount the box on the bike. I already ordered a 60mm RAM mount.
I'm considering to drill a wee small hole into the Otterbox to connect some earphones through it. I could also use bluetooth, but the N810 only talks mono then. That's out of the discussionl :) .
The whole solution looks clumpsy compared to the elegant N810. But it will provide excellent protection against rain, dust and shocks.