I love spending my holidays on greek islands for several reasons. One of them is the excellent traditional food. I appreciate the simplicity and taste of the fresh meat, fish and vegetables. It tastes completely different than the food at greek restaurants in germany. It's not that the latter ones do a bad job. It's just the fact that the taste differs.
As tourists, we do wrong anyway. If greek people go to the restaurant, they tend to be a lot of people participating. So a lot of different dishes are put on the table, providing a rich variety of food. As tourists, we often are two people who just order two main dishes and that's it. So the meals look a bit poor, just providing, for example, some meat and potatoes on the plate. Well, not exactly. If you have good luck, the operator of the restaurant also has a garden where she grows some vegetables. If so, also the main dishes will show some fresh vegetables like tomatoes, paprika, onions and olives.
So here are some pics to wet your appetite. The greeks are masters in preparing very tasty starters. Here's the "Various Appetizers Plate" of the Mirtos Hotel's restaurant (which was accompanied by an excellent dark, sweet red wine):
Tomatoes and paprika are available stuffed with rice: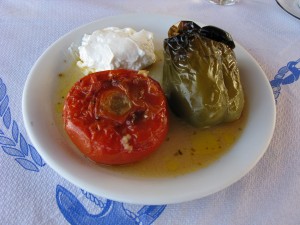 Alternatively, there's mince in it. Here's some aubergine:
Stifado is meat stewed together with onions and various spices. It may consist of any kind of meat, may it be pork, beef, veal, goat or even octopus. Unfortunately I have no photo available, so let's continue with one of my favourite candidates – lamb chops with tsatsiki:
But frankly, I avoid to eat much meat when I can have fresh fish instead. Small fishes, like sardines, are usually just fried and eaten as a whole, even including the bones. If you want to, that's just "fish mc nuggets", except that the fish was not minced and reshaped :) :
Some are even eaten including the head:
Of course you can even have other sizes, so here are some medium sized ones. You will not eat this one including the head and bones :) :
There are not only fishes in the sea, so here's some mono, errr, octopus :) . It was excellent, including the red sauce:
One of the best things I had was fresh shrimps with some nice aubergine salad. This one was very tasty:
Of course there's also some dessert. One traditional dessert is yoghurt with honey. As I'm not a fan of honey, I ordered it with fresh fruits instead:
As you can see in the above picture, I'm also a big fan of greek coffee. I like it metrio, with some sugar. And you should get a glass of water with it, to compensate its dehydrogenizable effect. Unfortunately, tourists often leave the water alone, so meanwhile the water is often missing.
That's enough for this year's catch. I promise to take photos of meals more consequently the next time :) .