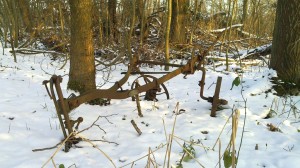 During the winter months, the mapping activities usually decrease, but I'm not completely in hibernation mode.
Black Forest winter hiking trails
There are some black forest winter hiking trails. Not all are prepared when there's snow, but some are. The Langlauf-Center Herrenwies, a provider of cross-country ski runs sited in Herrenwies, Black Forest, provides an overview of winter hiking trails in its area. The main purpose of this service is to protect the ski runs from hikers by preparing special routes for them.
We grabbed the occasion and visited the trail around the rote Lache (Trail N° 1 as seen on the abovementioned page). Here's the trip (also available as GPX track):
Mapping whitespace – Eschenstruth
I was pointed to a village which was still almost completely whitespace. I mapped it by car, which was not much fun due to the snowy streets. It's not completed yet, but most streets are now in the dataset, including their names:
One Bienwald River per Winter
Of course I continued my winter hobby – mapping rivers in the nearby Bienwald. After the Aschbach and the Heilbach, I currently try to get the Wiebelsbach into the dataset, step by step, literally spoken. It passes Büchelberg south and heads towards Hagenbach, which it then passes north:
Pics
Mapping rivers in the woods can best be accomplished during the winter months, when the ground is frozen. Here are some pics what the area looks like these days.
The snow that fell down last Xmas eve was spread by some strong wind. That's why the trees are almost completely coated: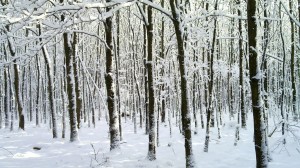 The Bienwald hosts numerous WW2-Bunkers, which were part of the Westwall of the infamous Third Reich. Nowadays almost all are destroyed, some even covered by earth. Crossing the Bienwald almost ensures that one will stumble upon one every now and then: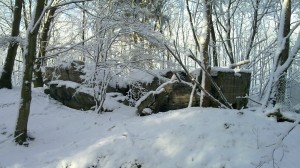 And that's what the Wiebelsbach looks like in the snowy woods: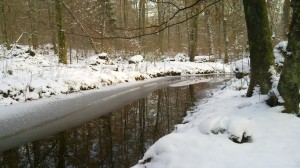 A very nice mapping trip indeed, and I enjoyed every single minute.