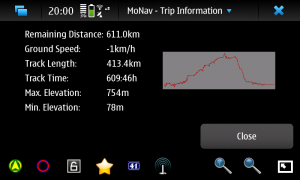 Though I'm currently rewriting the user interface of MoNav, I'm still missing some features while being on the road. During a trip, I want to see information about the remaining route distance, the distance and time already traveled, and as a cyclist who sometimes crosses hilly regions, I found some altitude information very useful. Obviously some volunteer is needed to write the code to accomplish that. Waiting for someone else is a valid option, but I know it's much better to get things done™ :) .
I pushed the first code to the central repository a couple of minutes ago. It's not polished yet, and the user interface requires some more dedication. I'd also like to add a display of the average speed, but this required some redesign of the track logger code first.
Frankly, it's a great joy and pleasure to contribute to MoNav. I'd like to thank its creator and maintainer, Christian Vetter, for the great work he put into it. The use of Qt for the backend and the frontend code. The uber fast routing engine. The use of OSM data for routing and the fast address search. And last but not least for his openness when it comes to new ideas and changes. Oh, and did I mention MoNav ran on the N900 out of the box from the first day I tried it :) ?
I'd also like to thank James Hollingshead who wrote the first ready to use vector renderer for MoNav. Though it still shows some minor glitches and is missing rendering of street names, it currently serves us very well for displaying offline vector map data.
Enough rant for now. The code is written, and I better should go to bed :) .