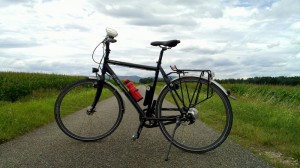 Though I do not want to complain about the weather this year, it often is accompanied by some light wind of about 15 kilometers per hour. Today it got even worse. Some heavy weather was brewing near Wissembourg. Heck, cyclists who rode the opposit direction had better luck :) .
I needed more then three hours for the 40 kilometers, including a short delay at the ferry in Neuburgweier and a short rest. Once again I visited my favourite restaurant to try some local alsacien food. That's Pressé de joues de bœf avec vinaigrette de raifort et crudités (brawn of cow, horseradish, and raw food).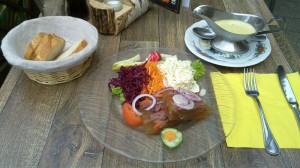 There was nothing to map for openstreetmap, as I did this already in the last four years. I found some new streets under construction in Wissembourg, but there was no access. Obviously I need to drop by again in the near future :) .