After a warm spring and a wet summer, the golden autumn fades out. Today it was cloudy though warm, and we grabbed the occasion for a hiking trip to the Palatinate Forest. The trip lead from Annweiler to the Trifels Castle, the Madenburg Castle and back to Annweiler. We needed almost seven hours for this 25 kilometers trip, due to several rests :) .
The Trifels castle is a well known tourist destination, though it was reconstructed during the infamous Nazi dictatorship. The Madenburg is a well known destination either:
It's a great viewpoint towards the upper Rhine plane:
I was surprised by the local gastronomic specialities provided. This is Bratwurst, Saumagen, and yes, Krauts actually eat what they are named after ;-) :
I missed the liver dumpling, but that would have been too much.
The wood was relatively dry, so I didn't find much fungi. Here is one anyway: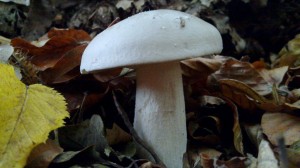 And finally, here's the trip:
Unfortunately two of us needed to leave after Trifels castle due to some severe flu. Get well soon!