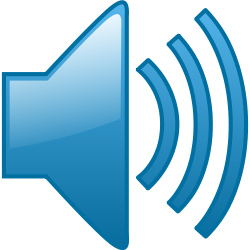 A couple of months ago I opened a branch named »ui-ng« in MoNav's repository to develop a new user interface. Meanwhile this branch became a playground for several hacks, and some of them are just spikes to check out whether some ideas work or not.
I denied to work on speech output this spring, as I knew this would become a rather lengthy task. But it was obvious that I won't resist the temptation during the cold and dark winter months. So I added the first code to generate spoken turn instructions recently. It is an ugly hack, just to determine what was possible. The code as found in the »ui-ng« repo works, well, at least a bit. The instructions are far away from being useful, except for lonesome crossings or roundabouts without other crossings nearby.
I'm using prerecorded samples for now, as the current open source speech synthesis systems did not show the results I desired. OTOH, this means I cannot generate instructions with dynamic contents like distances or street names. Additionally, those samples currently are included in the application binary, which will pollute the memory of handset devices as soon I'll add further localized samples (currently speech is available in german and english language only).
The main issue is that MoNav recalculates the route each time a GPS position update is received – which means each second on the N900. As the GPS position always is a bit inaccurate, MoNav will speak »Please turn right« when you pass, for example, a gas station and the GPS position is off the road by a couple of meters.
As a consequence, I've just written some code that detects whether the vehicle is still "on track". The route only gets recalculated in case the vehicle left it for more than x meters. This makes the route much more persistent and will cause far less headache than the previous approach. As this happened just a couple of minutes ago, the code is not in the repo yet.
There's still a lot of work to do, and I'm curious whether I'll stay motivated enough to do all of the work ahead. On the other hand it's just plain fun to explore the secrets of a usable routing application.
So stay tuned. The next week(s) will show whether I'll »head straightforward« :) .