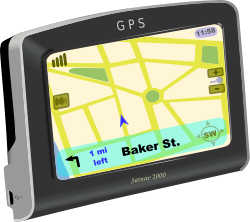 About two weeks ago I blogged about my first attempts to teach MoNav to provide speech output. While everything worked well on my desktop machines, MoNav did tend to crash every now and then on the N900, rendering it pretty useless for the intended use.
As debugging was a bit difficult, I have just rewritten a suspicious part of the code. Et voilà, a test drive through the city of Karlsruhe the past evening was of great joy and pleasure.
The speech output still is not mass compliant, though. MoNav is too verbose, instructions are spoken too late, and MoNav needs too long to detect that the vehicle left the precomputed route. But that's just tedious work in progress to be done during the next weeks and months.
And though I'm complaining, do not forget that MoNav in its current state actually is capable to guide you to your destination, while I'm pleased with what I achieved during the past weeks.
I'll continue the work on speech output for car drivers before I'll dive into making it compliant with the needs of cyclists.
In case you want to play with the current code, you'll need to compile the branch from source:
hg clone https://code.google.com/p/monav/ monav-permaroute
cd monav-permaroute
hg update permaroute
qmake monavclient.pro
(/Developer/QtSDK/Desktop/Qt/474/gcc/bin/qmake monavclient.pro on Mac OS X)
make
You'll also need updated map packages for this version to run properly. I've already precomputed some mapsets:
Germany_big
Germany
Alsace
Rheinland-pfalz
Baden-Wuerttemberg
The above lines are not intended for end users. It's for all those openstreetmap addicts who are interested to follow the current development of MoNav.
Have fun!