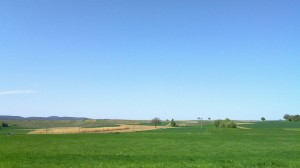 Finally a warm and sunny april day, almost summer! I just did a short biking trip from Kandel (the ferry in Neuburg currently is out of order) to Wissembourg passing some villages respectively hamlets like Dierbach, Kaplaneihof, Deutschhof, Heidebrunnenhof, Haftelhof and Schweigen-Rechtenbach. Though I didn't intend to do any mapping, I accidentally found a couple of tracks in the wine yards near Dierbach missing in our database.
The »Deutsches Weintor«, built in 1936, is a remain of the infamous Third Reich. It is facing towards France, and it wasn't built to express good neighbourship. The eagle originally held a swastika, which has been knocked off after WW2, in his right leg's claws. Nowadays it is a tourist attraction. I do not find it that interesting, since it is a reminder of the darkest years of german history, still expressed by the typical kind of architecture of that time: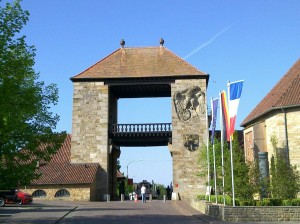 This one was a lazy trip of about 20 kilometers, just right for such a marvellous day. It ended in Wissembourg, the famous medieval town where I mapped most of the missing streets a couple of years ago. Not to mention the great pipe organ currently being restored.