I'm still using a Roland A-50 master keyboard, a device without a soundprocessor of its own, to control a couple of external engines. Though it is a rather barbed device, I love the action of its 76 keys, to have available both the Roland modulation lever plus the traditional wheels, the programmable sliders, buttons, and foot pedal inputs, its four MIDI output jacks with corresponding buttons on the panel, and its robust chassis which even forgot that my girlfriend once dropped it to the ground accidentally.
Unfortunately the first of its MIDI output jacks meanwhile denies to operate reliably. Additionally I'd like to reduce the amount of external sound generators I use – actually I already sold a couple of them. For my needs, one machine was quite enough, as long as it does what I'd like it to. What attracted me was a machine similar to my beloved Korg Z1, but equipped with 88 keys and an excellent grand piano emulation.
Looking for a replacement
Three years ago I tried several of the machines at the local trumpet stores, but none of them exited me. Somehow I felt that not much has changed during the last 20 years, when I played a Roland U-20 – still just "boring" ROMplers (ROM Sample Playback), lacking the capability to adjust the built-in sounds by accessing the synthesis parameters that made the original sound of the samples. Finally I gave up and decided to keep my current setup.
Korg Kronos
Two years ago Korg announced the Kronos. It is the new flagship device and the successor of the Oasis workstation. It is based on a standard computer powered by Linux. It is controlled via buttons, knobs and sliders on its surface plus a rather huge touch screen.
It contains a "traditional" sample based engine, some excellent grand piano emulations (full length samples streamed from an SSD drive), models for emulating electric pianos, electric organs, an FM-synthesizer capable of loading DX-7 SysEx files, physical modelling of plucked strings and three subtractive synthesizers (a Polysix, an MS-20 and a third engine called AL-1). It also features wave sequences (as known from the Wavestation). In short, it can deliver many of the sounds keyboarders used "during the last century" in a very authentic manner. Additional features include external audio inputs, a vocoder, plus sampling and sequencing capabilities. Despite its feature set, it is still easy to use.
Keybeds
It is available in three sizes. The version with 61 synth keys is useful for small project studios. The two weighted hammer action models provide far better access to the dynamic piano sounds; the 73 key version may be better for porting it on stage, while the 88 key version may be used as a digital piano or master keyboard in a studio.
The weighted keys of the Kronos 73 and 88 are a very good compromise. They act nicely for playing piano, organ, synth and other sounds.
Issues
The only thing I found annoying was its noisy fan. Its vibrations are amplified by the chassis of the device, resulting in some hum still audible at a distance of about 20 feet. D'oh! While some users report that theirs is barely audible, others try to modify the machine by decoupling or replacing the stock fan, voiding the warranty. Others got the fan modified by the dealer.
It depends on the individual and the setup whether you'll be distracted by the hum. When playing with a band or live it probably is not an issue at all. In case you run a desktop computer with some fans in your studio anyway, you'll never notice how noisy your external hard drive actually is. In case you banned all devices which emitted hum or hiss (I did), the Kronos will be audible.
Other occasional issues with the keybed cutting notes (german blog posting) or touching other parts and loose data dial seem to be fixed in the Kronos X as introduced at the summer NAMM 2012.
Versatility
Wrapped in an ageless body, the Kronos workstation is a jack of all trades device. Here's why:
Traditional sample ROM player.
Built-in sequencer, Drum track and Karma engines.
Excellent grand and electric piano emulations for home or studio use.
Setlist mode for easy access to the needed sounds, combinations etc., with a smooth transition feature for live musicians.
9 sound engines with fully accessible (and controllable) parameters for programmers, sound designers, and live performers.
Capable of reading DX-7 SysEx files for people still using legacy gear.
Import of samples of various formats (Akai, SoundFont 2.0, WAV, AIFF) for people who grew a library.
Sample streaming from built-in SSD drive.
Master keyboard features, including to set up the front panel controllers to control external devices.
…
Expansion
Commercial sound libraries marketed by Korg directly are available online. Some of them are preinstalled as demo sounds on the Kronos X workstations. Besides the built-in "German" and "Japanese" grand pianos, the demos additionally include an "Austrian" emulation. I'm eagerly waiting to compare this sound "face to face" to a real Bösendorfer grand, though I guess this may not happen before Xmas next year :) .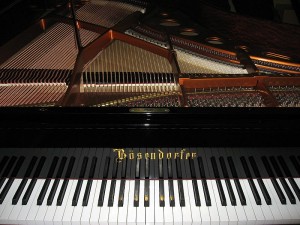 User contributed sounds can be found via korgpatches.com.
Qui Robinez provides three free soundsets.
William Busch wrote a couple of very interesting blog postings and shares many samples and soundsets, including Prophet 5 Emulations, Rhodes, B3 and Clav Programs, and Wurlies, Rhodes and Acoustic Pianos.
kronoscopie.fr provides several resources, including commercial and non-commercial sounds (including the ones of William Busch) for the Kronos.
Funding
Though the Kronos is not a "budget" device, you get far more features than you'll ever use. If you want to help me funding a Kronos, I intend to sell a couple of devices during the upcoming months :) :
Conclusion
While more and more musicians tend to use (portable) computers with external controllers and the needed software installed (Korg's very own legacy collection is a good example), Korg did now integrate a controller and a computer. The result is an easy to use and very flexible musical instrument.