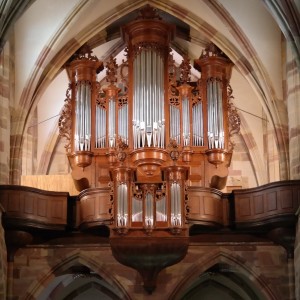 Today the last concert of the vesper series on the Dubois organ at Wissembourg took place. Pierre-Alain Clerc played the following pieces:
François Couperin (1668-1733) – Extraits de la suite sur le Magnificat du premier ton, arrangé pour orgue par François Delor

– Grand Plein Jeu
– Récit de Voix Humaine
– Fond d'orgue

Jean-François Dandrieu (1682-1738) – Tierce en taille en Sol, fièrement
Jean-Philippe Rameau (1683-1764) – Transcrit par Yves Rechsteiner

– Ouverture d'Hippolyte et Aricie
– Air pour Zéphyr sur les flûtes (Les Indes Galantes)
– Tambourin en Rondeau (Les Fêtes d'Hébé)
– Musette en quatuor (Platée)
– Air dans le goût de la Romance (Zoroastre)
– Tambourin (Les Indes Galantes)
– Marche des Matelots (Hippolyte et Aricie)

Johann-Sebastian Bach (1685-1750) – Transcrit du Concerto en do majeur de Antonio Vivaldi «Il grosso Mogul»

– Allegro
– Recitatif, Adagio
– Allegro
As last year, I'd like to express my gratitude to all who helped to make the series happen, such as the artists playing though no salary was granted, all the helping hands behind the scenes, and last but not least Denise and Thomas Becker for their continued efforts.
Don't miss the »Concert spirituel "Te Deum Laudamus" du 6 octobre 2013 en l'abbatiale Sts Pierre et Paul par le Bruchsaler Barockensemble et 150 choristes de la région de Karlsruhe« (PDF).