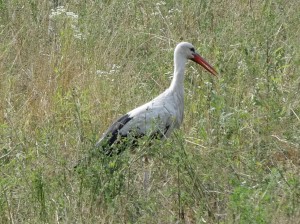 Still we enjoy the storks, but in a couple of days, in August, they will be heading towards Africa. They can do so since they have natively built-in navigation capabilities. What a pity, they will never know what joy it is to play with gadgets like personal navigation assistants!
About three years passed since I was the last time in Strasbourg by bike, checking the bike routing capabilities of MoNav. Due to the hot and humid weather I was a bit lazy and took the train to Achern so the cycling distance was about 40 but 90 kilometers.
Once again I used the spoken instructions of OsmAnd and BRouter for the trip (in case anyone can recommend a good bike mount for an S3 smartphone please drop me a line). Due to the hot and humid weather I wanted to cross the river Rhine between Rheinau and Gambsheim, since on the french side treets promised some shadow. On the other side of the embankment as seen in the first picture the Rhine flows, which is above ground level. During floods, this road is closed.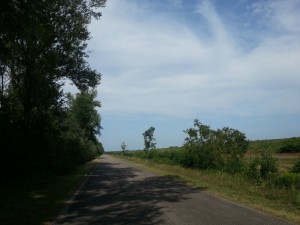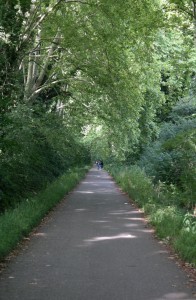 OsmAnd and BRouter led me very well, and I'm rather impressed what those applications can do for OSM addicts. Some of the changes in v1.8.2 really improved the usability of OsmAnd. Some of the issues I noted during the last test ride (I apologize for the german language postings) still persist.
Especially at crossings which include cycleways it is necessary to get a visual clue of what the router recommends. Thus I need a bike mount, and as soon I found a resonable bike mount I forecast a feature which will read as »As a cyclist I want OsmAnd to unblank my screen and zoom in at crossings, so that I better understand the spoken instructions.«
On my way back from Strasbourg to Achern, a couple of things happened, which I tried to document with screenshots. The router choose really nice routes, and often provided detailed instructions which led me to nice cycleways, (paved) agricultural roads and even included a short piece of gravelled track to span a short distance between two paved tracks.
What I already noticed during my trip to Belgium is the fact that OsmAnd often provides instructions like »Turn slightly left« in curves, even that no crossing exists. This also happens during bike routing using BRouter, and it sometimes even happens in case the street just is straightforward. I assume it happens due to some nodes being places slightly out of a stright line. However, this leads to the situation that one does not pay enough attention to instructions like »In 80 meters, turn slightly left«. However, this led to the situation shown in the following hardcopy. I should have crossed the street near the »L 90« label, but OsmAnd didn't tell me to do so. Thus I continued the track until the »B 28« label, as OsmAnd was like »If possible, please invert the direction.«.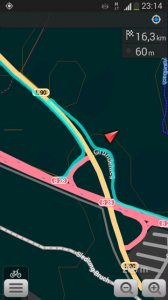 At this minor junction, I got no »turn left« instruction, so I climbed the bridge until OsmAnd told me to take a U-turn.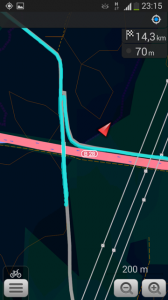 This crossing is much more perpendicular in reality as it is modeled in the data set. OsmAnd provided no instructions at all. In general, I wished that OsmAnd provided more instructions each time the type of road changes heavily (like »Turn left to the secondary road«).
The screenshot indicates that the three ways are apart by several meters. In reality, they are not. OsmAnd just provided something like »turn left« as soon as I reached the first crossing. Something like »Turn left at the third occasion« would have been helpful.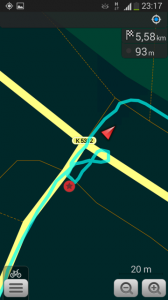 OsmAnd didn't provide any instructions at the red dot. However, this is due to the data set and not the software. The »Weststraße« continued for about 10 meters before the other street passes by about 90°. I just fixed it.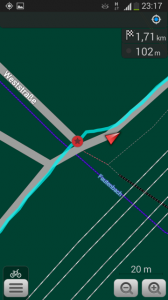 In general, OsmAnd is a bit too verbose for my taste:
»Turn left in |500m|200m|80m|now« are four instructions, which I'd reduce to two (maybe 80m and at the junction).
»Follow the road for 90m« immediately followed by »Turn left in 80m« made me think »Why not drop the first instruction?«
»Follow the road for about 3km« is provided too long after the last turn, interrupting the music output unnecessarily. For my taste, it should be provided immediately after the turn.
A feature I really liked was that OsmAnd is capable of muting the music player as soon as it provides instructions. A really great feature.
Conclusion: This trip was only half the fun without OsmAnd. The weather was hot, and I really enjoyed the trip back to Achern during sunset. Originally I planned to take the train back from Strasbourg, but there was none. I went to Appenweier, but the next train was 90 minutes ahead. So I used the time to cycle back to Achern, which was great as it allowed me to collect the abovementioned issues.
I'd like to thank all mappers for collecting the data, all developers who provide the infrastructure for OSM, and all developers who write software which does useful things with our data. From my work on MoNav I know pretty well how difficult it is to provide pleasing speech output. It's not rocket science, but requires a lot of trial and error.
Environmental footprint:
10 hours of travel time (including rests and waiting times)
2 liters of tap water
1 liter of Cola
1 knuckle of pork
Some electrical power for the Samsung S3 handset and the Samsung NX300 camera
No clue about the enery used by Deutsche Bahn
No clue about the amount of methane produced :)