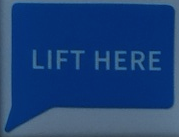 Meanwhile I got a bit more used to Jolla's user interface, and I'm quite curious how well it will serve me.
Of course I immediately started to configure the handset to my uses. Subsequently I shed some light on things I found surprising.
Operating System updates are available. The installation requires creating a Jolla account, though.
Creating the Jolla account requires passing rather detailed personal information, like a user name, real name, an e-mail address, a country, and even a birthday.
Several attempts to download apps or OS updates ended in endlessly looping progress indicators. A Reboot fixed this, though only once. Fortunately there's a detailed tutorial how to make good use of the recovery mode…
Connecting the device via USB requires the MTP protocol, which Mac OS X does not support. Copying files to the phone will thus require to insert a microSD card prefilled with the desired data. Hackers alternatively may want to use scp.
I managed at least to configure one (of four) owncloud calendars to appear in the phone's calendar application. All dates appear shifted by an hour, though. Appearently time zones are ignored. The stock calendar application of Android allows to subscribe to multiple CalDAV calendars, and time zones never have been an issue.
I didn't manage to configure CardDAV contacts via owncloud, and according to this (german language) posting, it doesn't seem to be a problem at my end.
An attempt to import contacts from a VCF file caused the people application to be busy for quite some while (actually, unlike this posting, it's not finished yet). I quit it and tried anew, which finally resulted in imported contacts within seconds. Unfortunately it didn't import the contacts avatars, though this is a minor issue for my needs.
The owncloud news reader (I'm happy it exists!) requires online connectivity to mark messages as read. A notification that the synchronisation failed appears each message the user reads. The Android app is capable of buffering this information offline until the next sync.
A file manager is not available, unless the user activates the developer mode and uses the terminal application to activate the file manager. Unfortunately, the file manager shows a blank screen only. I uninstalled it via the shell, and installed the public domain File Browser via the Jolla Store.
A chess game is missing, ignoring the fact that GNU chess is available as a command line interface (aka CLI) application.
A media player is availabe via the Jolla Store. I was rather surprised that it immediately did show the mp3 as well as the ogg files of the microSD. It even showed album covers for ogg files, which are just jpg images placed in the folders containing the album's ogg files. I'm happy :) .
The final pulse to go for a Jolla Phone was that someone ported MoNav for Sailfish and made it available via openrepos.net. I copied some map data to the microSD. To make it available in MoNav, I enabled the developer mode to get access to the terminal application. Then I used vi ~/.config/MoNavClient.conf. I added a section named [MapPackages] and the key-value-pair path=/media/sdcard/6632-3036/MoNavMaps/. I hope the 6632-3036 is some static UUID for my sdcard and does not change during the next reboot.
I'm missing a chess game, ignoring the fact that GNU chess is available as a command line interface (aka CLI) application :) .