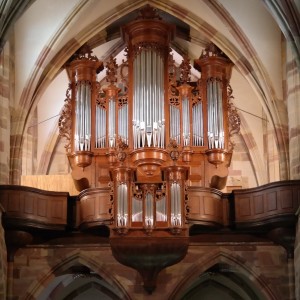 Today the last concert of this year's vesper series on the Dubois organ at Wissembourg took place. A gregorian choir and two organ players, Denise Becker and Heinrich Grimm, provided pieces of François Couperin, Henri Dumont et Nicolas de Grigny.
This was the fourth season of organ vespers at Wissembourg. I'd like to express my deepest gratitude to all who helped to make those concerts happen, such as the artists playing even though no salary was granted, all the helping hands behind the scenes, and the few people of the Association des Amis de l'Orgue Dubois for their continued efforts.
I heard rumors that next year the series will be continued. cu there :) .