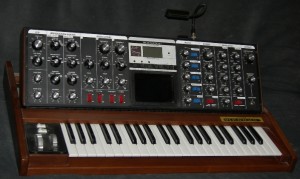 About four weeks ago, Moog Music announced that the Minimoog Voyager, the last Synthesizer which was desigend by his Moogness, will soon be discontinued.
I think it's not surprising. Some people call the Sub37 the true Minimoog of this century, and the market in common seems to be trending towards smaller (and cheaper) devices.
On the other hand, this raises questions about a possible new flagship product. I'm pretty curious whether Moog will offer a successor or what the next Phatty will look like.