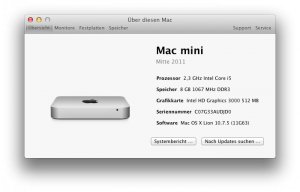 I'm still running a rather barbed Mid 2011 Mac Mini powered by Mac Os X Lion 10.7.5 as my home machine. An upgrade is long overdue, but the later models did not provide any significant benefit. Other Macs (like the iMac) could have been an option, though pricing and glossy displays didn't really attract me.
I expected the Mini was about to being discontinued. But it isn't, since Apple announced an upgraded model (available next week) yesterday. A big surprise.
The 2011 model got shipped with a 500GB HDD drive, a 256GB SSD being an option. The two 2018 models feature 128 GB SSD respectively 256 GB SSD per default, 500 GB SSD result in a price boost of 480 respectively 240 €. Compared to the price of current SSDs (128 GB about 25 €, 256 GB about 50 €, 500 GB about 80 €) those options appear a bit pricey (1.379 € respectively 1.489 €). Nevertheless it's great that the new Mini is available as a replacement of a 7 year old machine.
I expect that some tools I'm using won't be available for macOs Mojave 10.14 (even the update from 10.13 caused some hickups on my business MacBook). Data migration would be a manual process, and some adapters will be required to connect exiting peripherials (while the new Mini provides excellent connectivity options anyway).
As a conclusion, thanks Apple for the upgrade. It's much appreciated.