I'm working on a Passacaille of Jean-Baptiste Lully for about two years now. Until recently, I played it using two keybeds only. However, works of Lully usually feature parts for string instruments, interrupted by parts for hautbois respectively flutes. The Dubois organ (which I used to practice this very afternoon), features a third keybed, though it only contains pipes for the upper two octaves (the keys of the lower two are fixed and cannot be played). Unfortunately I cannot practise at home, since my digital pipe organ emulation only features two keybeds.
As a consequence, I tried to place a Yamaha Reface DX on top of the instrument. However, it was difficult to cope with its keys which are shrinked in size. Last week, I thus ordered a Miditech "Midi Start Music 25" MIDI controller for about 70 € and placed it on top of the organ.

Firstly the drawbacks. Obviously it is placed way too high. Additionally I had to move the light as well as the stand for sheet music out of center to the left. And since it just is a MIDI controller, it does not provide additional stops (aka sounds). I can just use it to replicate the sounds of either of the existing manuals. For my organ, it would have been fantastic that the slider could be configured to send on another channel than the keybed, but that's really a special interest feature request.
And now for the benefits.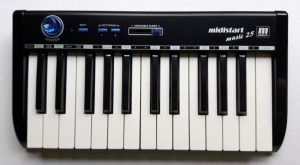 Quality look and feel. The main chassis consists of black aluminium, the side panels of glossy plastics.
The weight hinders the device from moving while being played.
The keys are of standard size. Much better compared to the mini keys of the Reface.
The key action is rather smooth. I didn't expect this of a controller of this price range.
The range of the keybed can easily be shifted to the desired position.
MIDI channel configurable.
…
I'm rather happy with the device. It allows me to practice the required movements of arms and fingers at home, so as to prepare on-site sessions. Thanks a bunch, miditech.