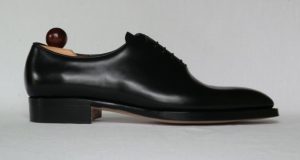 This year I had to replace most of my black shoes bought around 2011/2012. I've chosen other models and colours as black, and most of the shoes now have a plein leather sole instead of a rubber sole.
Unfortunately I still have no formal black shoe in my wardrobe. Well, not exactly. I have a black Oxford with captoe, according to some style gurus the "must have" shoe. And frankly, though it may be the most traditional shoe, I dislike it and prefer a wholecut.
Unfortunately I didn't find a nice black wholecut. As a consequence, I've visited Laszlo Vass, one of the finest addresses for RTW shoes in europe, a couple of weeks ago. I tried almost any of their lasts. Finally I ordered a black whoelcut (unfortunately, blue leather was out of stock) on last "S" in size 44 ½. This last is rather wide while flat at the front portion of the shoe, which matches my feet quite well. In case it turns out to fit my feet as well as expected, I'm after their Balmoral (model 5200) as the next model.