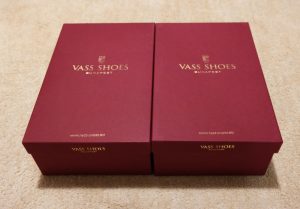 Today two pairs of shoes arrived which I ordered right at the beginning of the year. Both are made of the very same last "S" in size 44 ½, equal to the black wholecut I ordered last autumn.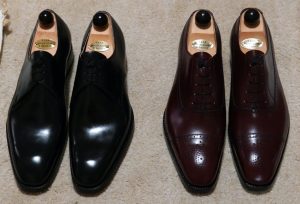 The left hand shoe appearently is very similar to the abovementioned wholecut. However, it actually is a Derby with only three eyelets. Laszlo Vass names this model »1067« and the style »London«. Instead of pure black leather, it features »Museum calf – blue« (which actually is almost black, the blue is only perceivable in direct sun- or studio light).
The right hand pair is an Oxford in Balmoral style. Vass named this model »5200«. The leather is »Calf leather – burgundy«.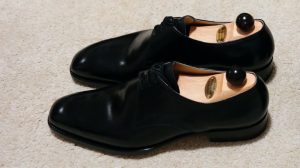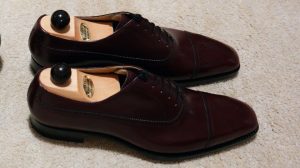 The Vass shoes are the most expensive ones of my wardrobe, about twice the price of the brands I'm usually buying. Since they are well crafted of finest material, they are intended to last for at least a decade.
A contemporary industrial shoe may be much cheaper, say 80 €. However it may well be worn out after a year or so. Hence an invest in traditional shoewear pays off rather sooner than later.