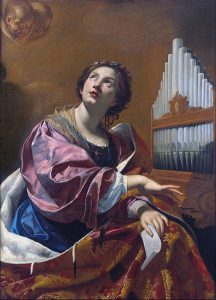 Daniel Heifetz zeigt in seinem TEDx-Event »Communicating the emotion in classical music« den Unterschied zwischen rein notenbezogener und emotionaler Musikwiedergabe.
An der Orgel ist das allerdings nicht ganz einfach. Im Gegensatz zum Klavier kann man an der Orgel während des Spiels nur sehr eingeschränkt (Registrierung, Schwellwerk so vorhanden) eine Lautstärkedynamik erzeugen – bauartbedingt klingen die Pfeifen immer gleich laut. Im Gegensatz zur Geige oder zum Cello kann man beim Spielen auch keine Tonhöhenbeugung erzeugen – bauartbedingt klingt die Pfeife beim Anschlag der Taste immer mit der gleichen konstanten Tonhöhe.
Umso wichtiger ist es, an der Orgel die verbleibenden Elemente gut zu nutzen. Im Gegensatz zu vielen anderen Instrumenten verfügen Orgeln über viele Klangfarben (Register genannt). Eine zum Stück passende Registrierung zu wählen (und selbige im Verlaufe des Stückes vielleicht auch zu ändern) ist somit einer der Faktoren, mit denen man an der Orgel Emotionalität transportieren kann. Viele Orgeln verfügen zudem über mehrere Manuale, so dass man über Manualwechsel zusätzliche klangliche Abwechslung in ein Stück bringen kann.
Neben diesen der Orgel eigenen Möglichkeiten gibt es noch allgemeingültige Stilmittel. Eines der wichtigsten ist sicher die Temponahme, also die Geschwindigkeit, mit der man ein Stück spielt. Wähend des Stückes kann man zudem noch Beschleunigen (Accelerando) oder Verzögern (Ritardando). Die Agogik beschäftigt sich noch detaillierter mit kleinen Tempoänderungen.
Bei der Artikulation bleibt an der Orgel, ebenfalls bauartbedingt, nur die Bindungsart der einzelnen Töne. Leider wurden Organisten lange Zeit zu strengem Legato angeleitet. Zwei aufeinanderfolgende Töne werden so gespielt, dass sie unmittelbar aufeinanderfolgen, so wie es die Notenschrift auch vermuten lassen würde. Vor allem im Barock war den Organisten jedoch das "ordentliche Fortgehen" (Portato) sehr wichtig. Dabei werden die Töne nicht in ihrer vollen Länge festgehalten, sondern etwas früher losgelassen, so dass sich kleine Lücken zwischen den Tönen ergeben. Gerade an Orgeln in großen Räumen mit langem Nachhall führt das zu einem deutlich transparenteren Klangbild. Und es gibt natürlich noch die Möglichkeit, Töne nur recht kurz anzuschlagen (Staccato).
Neben der Bindungsart, bei der die einzelnen Töne immer auf ihren jeweiligen Zählzeiten angeschlagen werden, gibt es noch die Möglichkeit, einzelne Töne später anzuschlagen, wie etwa bei den von mir so geschätzten Notes inégales. Von zwei Noten wird der ersten mehr Zeit eingeräumt, die zweite wird später angeschlagen und wird dadurch verkürzt.
Nehmen wir als Beispiel die populäre Chaconne in f-Moll von Johann Pachelbel. Das Stück ist maximal dreistimmig, teils nur zwei- oder gar einstimmig und dadurch recht minimalistisch gehalten. Über dem Bass-Ostinato aus vier einfachen Tönen baut Pachelbel insgesamt 22 Variationen auf. Wenn ich das Stück höre, wird es oft recht flott gespielt. Für jede Variation wird eine andere Registrierung verwendet. Ich spiele es hingegen deutlich langsamer und halte mich bei der Registrierung extrem zurück, indem ich im Hauptwerk nur einen Prinzipal 8′ mit Bourdon 8′ und im Rückpositiv Bourdon 8′ mit Flöte 4′ verwende. Allerdings verteile ich die Stimmen immer wieder anders auf die beiden Manuale. Zusätzlich gibt es etliche Stellen, an denen man ganz wundervoll verzögern und beschleunigen kann. Auf diese Weise erzeuge ich gezielt eine kontemplative Ruhe.
Update 2020-05-25:
Jean Gabriel, Chief Editor of NuMusician, writes me about how music affects the brain, a further topic I'm pretty aware of.