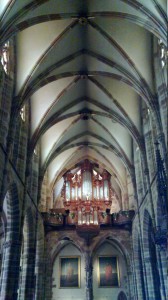 After its inauguration, the Dubois organ is used for a series of vespers during this summer, happening each sunday afternoon from 5 PM to 5:50 PM. Though the inauguration just happened one week ago, Daniel Maurer yesterday was in desperate need of tuning the lingual pipes of the backside positiv 15 minutes before the concert. He played the following pieces:
J.S. Bach

Choral »Komm, Gott Schöpfer, heiliger Geist« (BWV 667)

F. Couperin

Récit de Cornet
Cromorne sur la taille

J.S. Bach

Fantaisie en sol majeur (Très vitement, Gravement, Lentement) (BWV 572)
Choral »Meine Seele erhebet den Herrn« (BWV 243)

F. Couperin

Offertoire sur les grands jeux
Récit de Tierce en Taille

G.F. Haendel, Suite N°1 for a musical clock

A voluntary or a flight of angels (HWV 600)
Menuet (HWV 603)
Gigue (HWV 589)
Today Pascal Reber played the following:
Claude Gervaise, Danceries de la Renaissance

Pavane
Gaillarde
Branle de Champagne
Branle de Bourgogne

J.S. Bach

Choral »Herr Jesu Christ dich zu uns wend« (BWV 655)
Choral »Komm heiliger Geist, Herre Gott« (BWV 652)

Louis Nicolas Clérambault

Plein Jeu
Duo
Trio
Basse de cromorne
Flûtes
Récit de nazard
Caprice sur les Grands Jeux

Pacal Reber

Improvisation I
Improvisation II
I especially enjoyed the first block of ancient renaissance pieces. During the second improvisation, he played rather unconventional stuff, showing that the instrument is not only capable of reproducing classical music.
Two excellent concerts which I really enjoyed.