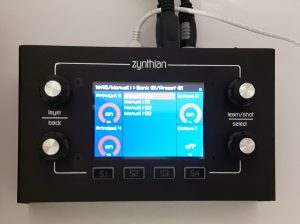 The Zynthian provides several user interfaces:
The most essential are the display, buttons and encoders of the unit, for direct access.
Some of the tools additionally provide a native computer window, which can be displayed either via (micro) HDMI or X11 forwarding.
A web browser configuration interface, accessible via the network.
ssh-access, over the network as well.
The MOD-UI-Interface is also available via HTTP.
The Raspberry Pi 4 features an integrated WIFI module, which is disabled by default. One can switch it on via the admin menu directly at the device, but only after it was configured via the web browser configuration interface. So to get the Zynthian connected to a network, an ethernet cable is mandatory. Subsequently you'll find what I did, what worked and not (in short, a crosslink cable connection does not).
The first thing I tried was just connecting it to a MacBook using an ethernet cable. ssh immediately worked, e.g. ssh root@zynthian.local. Even using a web browser, the configuration interface was available at http://zynthian.local. After providing the login credentials, the login screen immedieately reappeared without providing any hint what went wrong. According to the discourse pages, other users observed this behaviour as well.
So the next step was to connect the ethernet cable directly to the router. The Zynthian interface discloses the IP address of 192.168.1.5, which one can enter into a web browser. And that's it. Via the configuration interface, WIFI can be configured. Hint: It will last a couple of seconds until the popup for selecting the network is populated. Just be patient. Now the Zynthian admin interface discloses the WLAN IP as 192.168.1.6 and you can get rid of the ethernet cable..
From the config interface, the OS can be updated, what I did immediately.
Great. WIFI works, and the config frontend can be reached without the need of an ethernet cable.
Security hints:
You should change the login passwords of your Zynthian, otherwise your machine may be easily hacked and abused by someone else.
Additionally, try to disable WIFI from the Zynthian's admin menu after using it.