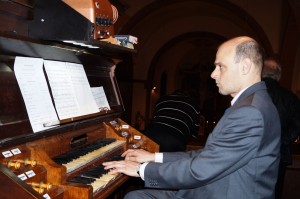 About 25 years ago I used to play the pipe organ at the church of the village where I grew up. The instrument is about 130 years old and was bought used in 1915 – just 100 years ago. To celebrate the centenary, a concert took place last sunday.
Besides other contributors – singers, brass players, even a street organ was involved – I played the following (mostly short) pieces:
Concert de flûtes (Michel Corette, 1707-1795)
Dialogue sur les Flûtes (Jean-Baptiste Lully, 1632-1687)
Récit de Cornet (Jean-Baptiste Lully)
Fantasia en do (Abraham van den Kerckhoven, 1618-1702)
Pas de Chaconne (Johann Pachelbel, 1653–1706)
The instrument is a german romantic instrument, not perfectly suited for baroque music. The above selection of pieces, however, did fit well anyway.
I struggled with two issues. Though the pieces were short, they were rather challenging to study. Additionally, due to the age of the instrument, the console does not conform to today's standard dimensions.
For the last piece, I only used the first couple of bars of the original composition at the beginning and the end. The middle section was an improvisation, presenting the various stops of the instrument, over the bass pedal ostinato:
F, Eb, Db, C
The concert was well visited, and the audience quite content with the various music provided.
During the last two months of preparation, I learned a lot about playing baroque pipe organ music, fingering and pedalling. Aftereffect: I want to learn even more :) .