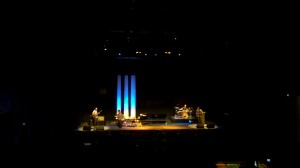 After Stanley Clarke Herbie Hancock performed live at Tollhaus, Karlsruhe, together with James Genus (Bass), Trevor Lawrence (Drums) and Lionel Loueke (Guitar), a linup similar to the one 20 months ago.
This evening was four outstanding musicians playing outstanding music. In case you think you learned about rythm, jazz and functional harmony, I can recommend those guys to set you right :) . They are using sounds and playing stuff you won't find anywhere else.
I'm once again impressed by the progressiveness of Hancock. After all those years, he's still the one who constantly reinvents music.
Thanks, guys :) .