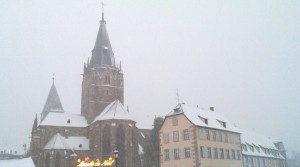 Snow is a seldom guest of the Upper Rhine Plain, but currently it's snowing all day. It didn't hinder me grabbing a car and heading to Wissembourg to visit a concert.
Artists
La Chorale Ste Cécile de Wingen

Direction: Joseph Walther
Elsa Goetz, soliste
Geneviève Heitz, soliste
Philippe Gimber, soliste
Denise Becker, accompagnement à l'orgue de chœur

Pascal Reber, soliste à l'orgue Dubois
Program
Orgue

Nun komme der Heiland, Johann Sebastian Bach (1685 – 1750)

Chant

Hodie et Alleluia, H. Schütz (1585 – 1672)
Veni, veni, Emmanuel, Mélodie française du 15e siecle
Gloria, C. Saint-Saens (1835 – 1921)
Jubilate Deo, L. Halmos (*1945)
Wie der Hirsch schreit, Felix Mendelssohn Bartholdy (1809 – 1847)
Hodie et Alleluia, H. Schütz (1585 – 1672)

Orgue

Musette et Tambourin, M. Corette (1707 – 1795)

Chant

Hodie Christus natus est, Louis-Nicolas Clérambault (1676 – 1749)

Orgue

Noël VI, Louis-Claude Daquin (1694–1772)

Chant

Les pastoureaux, Noël provençal
Quelle est cette odeur agréable?, Noël pop. Français
Still, still, still, Noël pop. Allemand
Cest Noël qui chante, Noël suisse
Candlelight carol, J. Rutter

Orgue

Improvisation sur un thème donné, P. Reber (*1961)

Tous en chœur
Conclusion
A great concert, and the right activity for a snowy sunday afternoon. Thanks to all who made this happen.