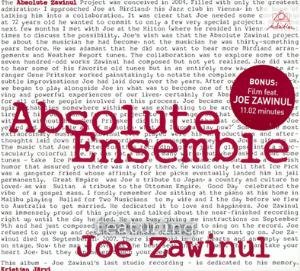 Über einen Beitrag im Deutschlandfunk[1] bin ich auf das von Charles Coleman und Kristjan Järvi 1993 gegründete Absolute Ensemble[2] aufmerksam geworden. Die Livemitschnitte eines Konzertes in Bremen haben mir auf Anhieb gut gefallen. Was nicht weiter verwundert, denn im weiteren Verlauf der Sendung wurde das Album »Absolute Zawinul« (Details) angesprochen, das seit 2004 in Zusammenarbeit mit Joe Zawinul entstanden ist[3].
Zawinul-Fans finden auf dem Album durchaus bekannte Stücke:
01 – Bimoya
02 – Sultan
03 – Great Empire
04 – Peace
05 – Good Day
06 – The Peasant
07 – Ballad For Two Musicians
08 – Ice Pick Willy
Wer nochmal Joes sakralen Synthsound oder den Vocoder hören möchte, kommt hier auf seine Kosten. Zu hören sind außerdem weitere Syndicate-Musiker wie Sabine Kabongo, Allegre Correa, Aziz Sahmaoui, Paco Séry (»greatest drummer on the earth«) und Linley Marthe (der des öfteren mit einem stark abgegriffenen Instrument zu sehen war). Hier das Lineup laut Progarchives:
Joe Zawinul – composer, keyboards and vocoder
Kristjan Järvi – music director, conductor
Gene Pritsker – arranger
Vesselin Gellev – violin
Neela de Fonseka – violin
Eddie Venegas – violin
Gregor Huebner – violin
Edmundo Ramirez – viola
Michael Block – cello
Mat Fieldes – acoustic, electric bass
Jay Elfenbein – acoustic, electric bass
Hayley Melitta Reid – flute, piccolo
Keve Wilson – oboe, English Horn
Michiyo Suzuki/ clarinet, saxophone
Marianne Gythfeldt /clarinet
Martin Kuuskmann – bassoon
Damian Primis – contrabassoon
Charles Porter – trumpet
Ann Ellsworth – horn
Michael Seltzer – trombone
Damien Bassman – drums, percussion
Pablo Rieppi – percussion
John Ostrowski – percussion
Matt Herskowitz – piano, keyboard
Gene Pritsker – electric guitar
Sabine Kabongo – vocals
Allegre Correa – guitar, vocals
Aziz Sahmaoui – percussion, vocals, gumbri
Jorge Bezerra – percussion
Paco Sery – drums, percussion, kalimba
Linley Marthe – electric bass
Es ist schon erstaunlich, was dabei herausgekommen ist. Davon würde ich gerne mehr hören, nicht zuletzt deshalb, weil es mich an die Musik erinnert, die ich Anfang der 1990er selbst gemacht habe :) .
—-
[1] Leider kann ich keine Informationen zu dem Beitrag mehr im Archiv finden. Das wird mit dem ab diesem Jahr neuen Rundfunkgebührenmodell sicher alles viel besser ;-) .
[2] Man muss genauso wie beim Online-Musikkauf bei Amazon Flash im Browser aktiviert haben, damit die Seite angezeigt werden kann.
[3] Joe starb am 11. September 2007 vor der Fertigstellung.