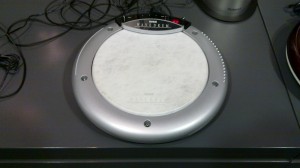 I wonder why Korg didn't name the instrument Kavedrum, since this would better fit other Korg products like Kronos and KingKorg :) .
I had the occasion to play the instrument this weekend. Frankly, I was completely impressed by the sensitivity of its membrane and rim. The built in sounds include really special stuff, and the device invites to play stuff never heard before.
It was designed as a standalone musical instrument. As a consequence, it does not provide interfaces such as MIDI or USB. It cannot be used as a controller to trigger sounds of other instruments. The user cannot upload custom samples, and the device cannot be played by external sequencers. Obviously the product managers had a clear vision in mind.
I also played the Wavedrum Mini. The pad is not a membrane, but a rubber pad. Instead of a rim, it features a clip which can be used external surfaces (tabletops, books etc.) to trigger sounds.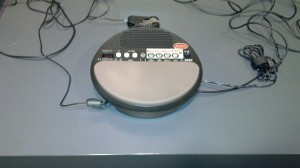 I was impressed how well it responds to user input. However, I perceived the overall sounds less innovative the the one of the Wavedrum (WDX, Oriental, the new Wavedrum Global was not on stock yet).
The third device I tried was the Roland Handsonic, which is available with 10 and 15 Pads. It's less innovative than the Wavedrum, but it provides external connectivity via MIDI, and responds to user input very nicely.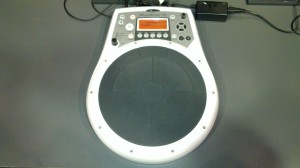 So which one am I going to buy? None of them. Since I'm a keyboarder and not a percussionist, I'm still content with the m-audio Trigger Finger connected to the Kronos or the computer: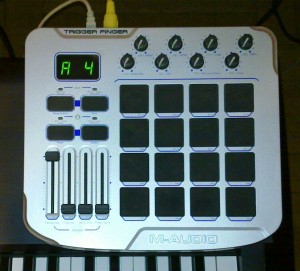 The Kronos cannot cope with it when connected via USB. The first couple of notes will be played, but then the Kronos stops to play further notes. Plugging the TriggerFinger out and in again fixes the issue, but only for a couple of notes. As a workaround, don't use a USB but a MIDI cable.
Edit: Also see the Mandala.