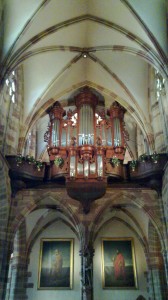 Almost one year passed since the inauguration of the Dubois organ at the abbey of Peter and Paul in Wissembourg. To celebrate the anniversary a nice concert took place yesterday from 8 PM to 10 PM.
Pascal Reber and Markus Eichenlaub played pieces of various composers. Three have been played using four hands by both artists. A screen has been used so that the audience could see the artists and their helpers working at the console.
I especially enjoyed the »Chaconne en fa mineur« of Johann Pachelbel, one of my favorites which I haven't heard for ages.
Just like last year the instrument can be heard during the vespers each sunday at 5 PM (August 11 at 4 PM) between June 9 and September 15.
I'd like to thank all who helped to make this happen, especially the many volunteers.