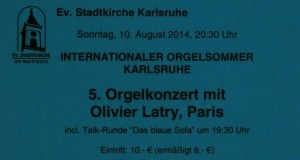 On sunday the 2014-09-14 the last Vesperale of this year's season took place in Wissembourg, performed by Pascal Reber. It was the 50th Vesperale since the inauguration of the Dubois organ. We heard rumors of people involved that there are plans to continue next year.
I've attended each of the 50 Vespers (and the other concerts), except for three times last year due to some vacation. The last two years, a friend of mine also was involved. Fortunately he owns a car. The deal is simple. He's driving, I'm cutting and converting to mp3 the bootlegs recorded with the Zoom H4N :) .
It's a bit weird. We align each summer weekend to this particular event, dropping other activities (like hiking or biking) and do not hesitate to spend hours getting there, just to enjoy the sound of this special instrument. But obviously it is worth the effort.
Besides the Vespers in France, the Internationaler Orgelsommer Karlsruhe provided five occasions to listen to the two organs (Steinmeier and Remy Mahler) of the Ev. Stadtkirche. We attended three times to listen to Sul Bi Yi (Seoul), Ben van Oosten (Den Haag), and Olivier Latry (Paris). Their performances were outstanding, especially the one of Sul Bi Yi.
Will we continue next year? I presume our motivation didn't decrease yet. I'm addicted to sounds, with a focus on keyboard instruments like electronic synthesizers, and pipe organs, which can be seen as ancient additive synthesizers.