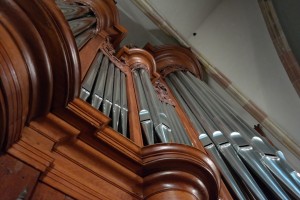 Today I once again performed at the Dubois organ for some familiy members. Compared to 2015, 2016 and 2017, I felt relatively calm and well prepared. I played the program of about 35 minutes at home two days ago, yesterday, and one of the pieces this very morning at the target instrument. Not to mention the on-site practice sessions during the last couple of weeks.
Surprisingly, it turned into the worst performance I ever did – I lost contact to the sheet music two times. One time I had to resume the pièce, the other I finished a section a couple of bars earlier as intended. This very eve is the occasion to reflect what issues led to this situation.
Despite many practicing hours, I do not cope perfectly with the pieces yet.
The instrument is different than my practising instrument, so additional distractions happen every now and then.
The two points are based on my lack of professional practicing habits.
Interestingly, the pieces I play the longest failed most, whereas pieces I thought could fail worked better than expected. Here's what I played this year:
Abraham van den Kerckhoven (1618-1702) – Cocquiel-Manuscript (1741) – Prelúdium & Fúga (en Ré mineur) – screwed up completely
Johann Pachelbel (1653-1706) – Chaconne (en fa mineur) – minor imperfections
Louis-Nicolas Clérambault (1676-1749) – Premier Livre d'Orgue – Suite du lle Ton (en sol mineur, 1710)

Plein Jeu – minor imperfections
Duo – minor imperfections
Basse de Cromorne – screwed up completely
Récit de Nazard – minor imperfections
Caprice sur les Grands Jeux – minor imperfections

François Couperin (1668 – 1733) – Messe a l'usage des Paroisses (en sol mineur, Paris 1690) – Benedictus (Chromhorne en taille)